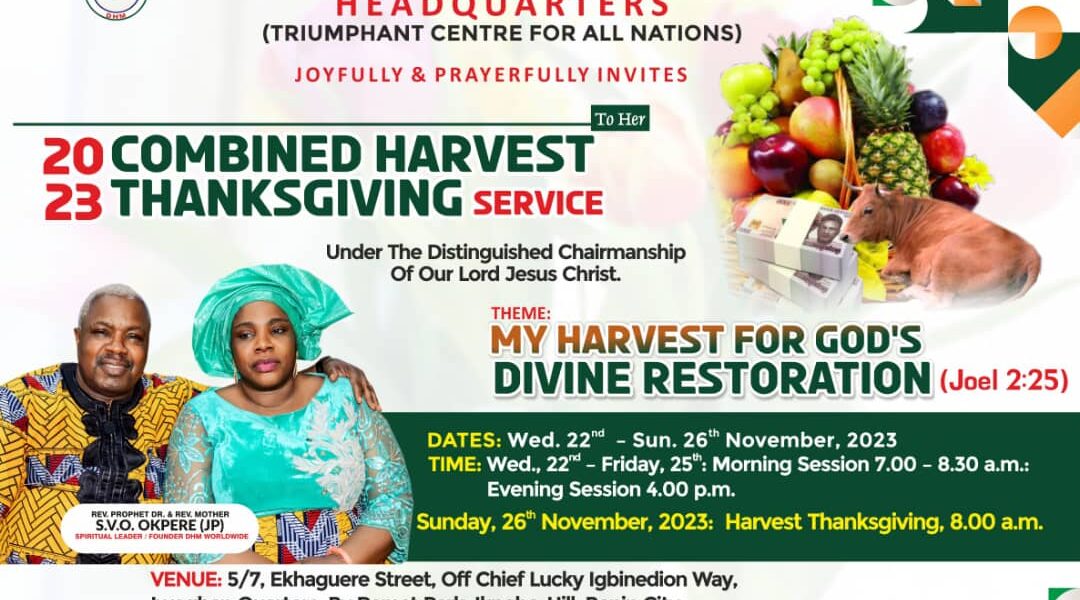 Set The Right Example
This was the message Preached on Sunday by Rev. Prophet Dr. S. V. O Okpere (JP) at Deliverance Holy Mission Int'L Inc headquarters Benin City. He tasked Nigerians especially religious leaders irrespective of religion, Political Leaders irrespective of Party affiliations to set examples that will produce good atmosphere for the upcoming generations to dwell in. Noting that God's Divine Purpose for Creating Man and Woman in His image and Likeness was to multiply same Purpose and replenish the Earth with God's kind of attitude and Character. He admonished religious leaders especially the Christian community to understand that we are in the message we Preaches, and said, if any Preacher Preaches what he or she did not Practice, the listeners are wasting their time.
Prophet Sunday Okpere who supported his assertion with the scripture he took in Psalms 119:25–40, Matthew 5:13–16, and Acts 10:1–8 Noted that Christian Faithfuls should understand that the Acts of the Apostles were written because the Apostles acted all the contents. The Prophet said, because they took steps of divine Faith which now becomes the foundation of the faith of the early Christians before the Body was broken into denominations, they ware all in one accord. Nevertheless, if we can put materialism aside from our Faith, and seeks Him first, God's Kingdom will become our ways of living.
Click Here to Watch Today's Sermon 
Highlights of the service include prophetic declarations for peace and will of God to manifest in our Nation Nigeria. Meanwhile the annual Combined harvest thanksgiving of Deliverance Holy mission, with the Theme: MY HARVEST FOR GOD'S DIVINE RESTORATION (Joel 2:25) begins from this Wednesday 22nd November 2023, morning section 6:30am-8am, evening section 4pm, same time daily till Friday 24th November, on Sunday 26th November is the day of our Restoration harvest. Beginning from 8am. Rev. Prophet Dr. and Rev. mother S. V. O Okpere (JP) are Chief host. Lovers of God's Truth and Righteousness are gracefully invited.