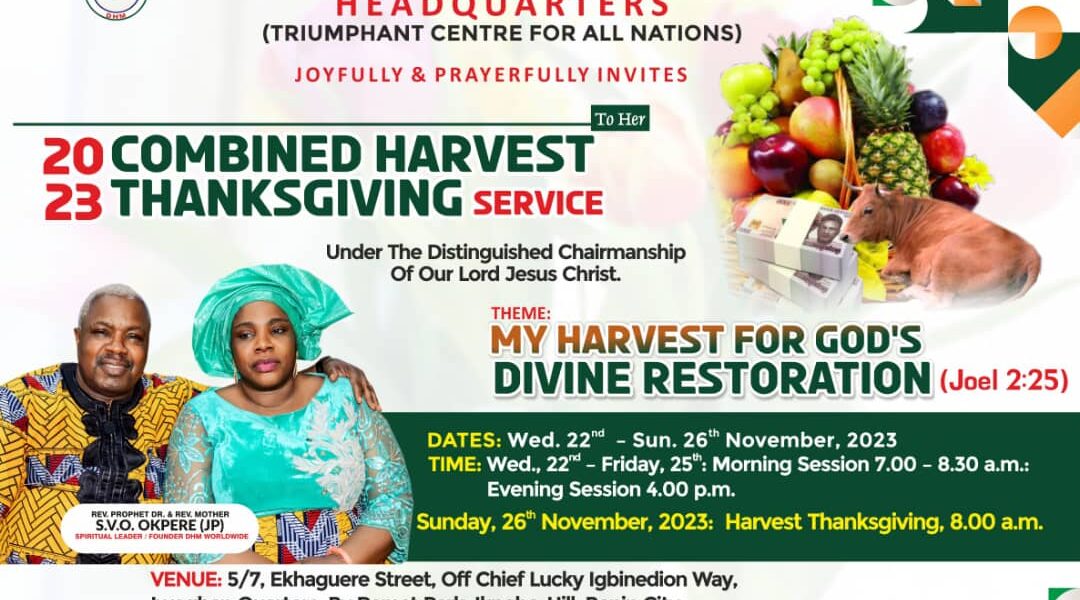 Freedom from Mental Captivity
This was the message preached on Sunday by Rev Prophet Dr S. V. O Okpere (JP) at deliverance holy mission Int'L Inc headquarters Benin City. He tasked Christian faithfuls to put their forces together in Prayers and aggressive lectures in their respective Congregations to enable us pull down our strongholds especially in the areas of Unity which is the major concern of Our Lord Jesus Christ during His prayer for His disciples which was also practiced by the early Christians. Noting that, Nigerians from the top to bottom needs freedom from mental captivities. The Leaders of our nation needs to be very sensitive in their leadership towards the Citizens and be concerned about their welfare first before their Pleasures.
Prophet Sunday Okpere who supported his assertion with the scripture he took in Matthew 6:19–24, Ephesians 1:17 & 18, Ephesians 4:17 & 18, and 2nd Timothy 3:1–7 and said, it seems as if the mentality of an average Nigerian is in siege, hence, their believes reigns more in their quest for materialism which has bedeviled the body Polity of the Nation. The Prophet Lamented and said, unless the leadership of all religions recalibrate their values by teaching on moral values. Or else the sign of the biblical Perilous times is at hands.
Click Here to Watch Today's Sermon
Highlights of the service include prophetic declarations for peace and the will of God to manifest in our nation Nigeria. Meanwhile: the annual harvest thanksgiving of Deliverance Holy mission (Liberation Chapel) Dumez quarter Eyaen Benin city, with the theme: I and my households shall dance into 2024 ( Psalms 30:11 & 12), comes next Sunday 19th of November by 10am. Rev. mother Ebuwa S. V. O Okpere (JP) is the host while Rev prophet Dr. S. V. O Okpere (JP) is the Chief Host.